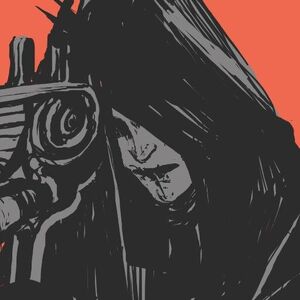 HamletMachine is the creator of the webcomic Starfighter. She studied traditional animation at the School of Visual Arts in Manhattan.[1]
Biography
Edit
Write the first section of your article here. Remember to include links to other pages on the wiki.
Interviews
Edit
Thank you to tumblr user perfectlyarmin for compiling this list:
One on One with M. Palumbo: Take Two
YAOI INTERVIEW: HamletMachine of Starfighter
Interview with Catriana Sommers
Interview with Nancy Ruhling of the Huffington Post
Interview with Hayley B. James
Audio Interview with tumblr user vadervengeance
deviantArt Ask the Artist Interview
Interview with tumblr user glassstrawberries
References
Edit
Ad blocker interference detected!
Wikia is a free-to-use site that makes money from advertising. We have a modified experience for viewers using ad blockers

Wikia is not accessible if you've made further modifications. Remove the custom ad blocker rule(s) and the page will load as expected.